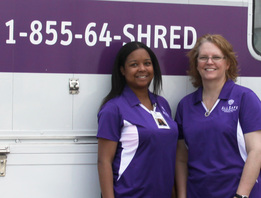 We often say we have a freakish knowledge of what's available in our area. Mostly, because we get to work with amazing people doing some pretty amazing things.

Susan Meeker and her company All Safe Records Management Solutions is one such example. Tiring of the corporate world, she bought a Peterbilt Shred Truck, joined a few industry associations and off she went. Well, we all know it was a little more than that, but she makes it look easy.

In addition to shredding paperwork, All Safe offers document scanning. Susan's customers can eliminate bulk storage, by letting her turn that paper work into readable electronic files.

Dogwood Graphics prints business cards, letterhead and envelopes for All Safe. We also help Susan develop new customer packs, post cards to expand market areas, and newspaper ads. Susan contracted a graphic designer in North Carolina for her logo, and we help her design her brochures. Since we have a digital press in our shop, Susan isn't bound by minimums. Gone are the days of having to order 1000+ to get a great price, then something unforeseen changes. Susan has the luxury of ordering only the materials she needs.

It's pretty amazing to see any start up business grow the way that All Safe Records Management Solutions has. Susan is passionate about protecting her customer's information. And she is just one example of the amazing businesses we serve.